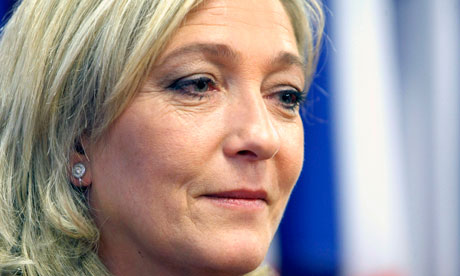 France's first round of presidential elections are coming up on April 22nd, and three main candidates, two from the left and one from the right, are emerging as the frontrunners to to run against President Sarkozy.  Sarkozy is head of the Union pour un Mouvement Populaire (UMP), which is a right wing party.  But the woman I want to talk about is Marine Le Pen, head of the Front National, which is a far right wing party.  And when I say far right, I mean almost to the point of fascism.
First, let's give a little background into the French election system.  On Sunday, April 22nd, citizens of France eighteen years of age or older will head to the polls to narrow the current field of ten candidates to one, to run against the incumbent president (Sarkozy).  Then on May 6th, the voters will elect the next president for a five year term.
One of the three main competitors against Sarkozy is Marine Le Pen.  It is important to note that like the U.S., France has never had a woman president (In 2007, Sarkozy ran against Ségolène Royal, and won by two million votes).
Marine Le Pen, however, should never be allowed anywhere near the Palais de l'Élysée, or the Presidency.
This is why this woman scares me:
She is opposed to the Common Agricultural Policy (CAP), a part of the European Union which helps farmers by subsidizing crops and land, while creating a minimum price for goods sold.

She wants to break apart from the European Union completely, and opposes the euro and the

Treaty of Lisbon.
She wants to put a moratorium on legal immigration (and illegal immigration - don't even get her started)
She wants to reinstate capital punishment in France
She does not condone abortion, even in cases of rape or incest
After the Toulouse shootings, even after her fellow right winger Sarkozy said not to make the shootings into a prejudiced hate speech against Islam, Le Pen said this: "We have underestimated, I think, the rise of radical Islam in our country."
She also said this: "It is time to wage war on these fundamentalist political religious groups who are killing our children."
In a world where reason is needed, electing this woman President would inhibit our growth as a world, and destroy the fundamental bonds that hold our countries together.
On a side note, did you know that the President's official vacation home is the coolest house ever?
That is the Fort de Brégançon, and I want to live there.
Keep your eyes wide, and your mind wider
-Dillon